Bet you didn't think you could fit a watermelon in our MISA Bags! Not that you'd ever do that … Baby from Dirty Dancing didn't need one.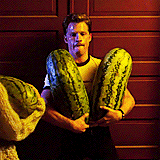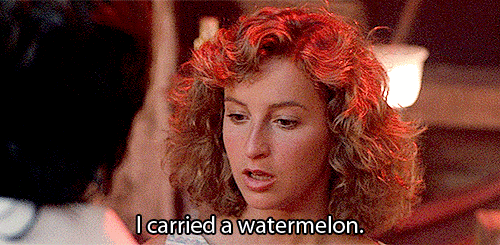 MISA mesh produce bags are so much mightier than they seam… (typo on purpose!). With enforced double stitching they are super strong and can hold 2-3 kgs. That's a heavy watermelon! Or a bucket load of apples for apple pie.
The mesh itself is also pretty special. It is super expandable. Like how you wish your waistband would be after an amazing potluck dinner. You know the feeling. That's another reason why this watermelon picture explains so much. But it's not just about fitting in more… it's also about straining out less.
With the perfect mesh hole size, MISA Reusable Mesh Produce Bags are the best thing when you're looking to get all home-makery in the kitchen. No fussing around with deteriorating cheesecloth, or moldy cotton or scrubbing strainers… use a MISA mesh bag instead! We love to use ours for easy clean up juicing (dream!)because we hate washing all the finicky bits of a juicer machine. Making milk alternatives on the cheap is our new hobby – cue dairy intolerant partners requests!
If you're like me, you really are making attempts to ditch the single-use bags- but I get to the checkout counter and all my fruit is rolling around and I get the checkout sweats as I try to wrangle them. Let's be real friends, these beauties are gonna make your checkout a breeze. Oh and that mesh I keep on harping about- makes a grand difference here too because MISA Mesh bags are truly transparent. There's no need for the checkout person to manhandle your fruit and open up the bag to identify them. Then it's straight home to wash, dry and store, keeping them in the bag the whole time. So much less fuss. Did you know they also help in keeping your fruit last longer? The breathable mesh allows ethylene gas to escape which prevents the over-ripening of fruit. Sayonara squishy, bruised fruit.
Seriously, MISA reusable produce bags are the easiest alternative to single-use plastic bags. They weigh nothing so stash some in your handbag, tote, backpack, reusable shopping bag and march along to the farmer's markets, shops or local greengrocers like the eco-conscious boss that you are. Guys can even scrunch them into pockets- in case you're the type that gets weird about carrying a man purse.
'Nuff said. These MISA Reusable Mesh Bags are a win!
Now… I'm off to get some fresh groceries and organize a potluck dinner.
#makeityours